Lainey Gallagher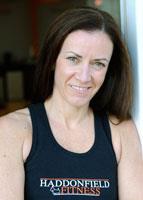 Lainey Gallagher, a native of Scotland, has over 20 years experience in the fitness arena. She has always had a passion for fitness which shines through in her training style. Her expertise ranges from personal training and fitness classes. She also specializes in teen athletic training which is something she feels very devoted to and continues to educate our children about the importance of health and fitness as part of their daily lifestyle.
It's like a dream come true to have my own fitness studio, I feel like a kid in a candy store. I am truly blessed to be living the "American Dream."
Lainey has been working in the fitness arena for over 20 years, and believes fitness should be a lifestyle choice. Her certifications include Personal Training AFAA, Les Mills Body Step and Body Pump, Corebar®, AAAI Group Fitness, Pilates and Kids and Teens Training.
Lainey has resided in the US for over 13 years and lives locally with her husband and three beautiful children.
Lainey Gallagher instructs the following:
A fun filled 45 minute fast paced circuit class. Move from station to station testing your strength & stamina for short bursts of time. Includes a variety of body weight exercises, ropes, dumbbells, slam balls, kettle bells and much more.




A Les Mills program designed to challenge major muscles groups in the body. Great for improving strength and toning. Two to three classes recommended per week for optimal results.




This fast paced 45 minute cardio class will surely test your strength & endurance. A combination of jump ropes, bags, punching and much more will keep you engaged. Note: Boxing gloves are required for this class.